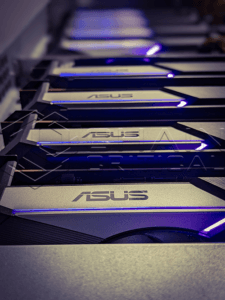 We regularly purchase hardware from miners looking to upgrade their farms or leave cryptocurrency mining. Whether it's graphics cards (GPUs) or ASICs – we're interested in what you have no matter the quantity.
We offer fair market value for cryptocurrency mining hardware purchases and can accommodate large mining farm buyouts. There are some types of mining hardware we cannot purchase.
Hardware items we do not purchase:
Bitmain S9, S17, or T17 ASIC Miners
Bitmain L3, L3+, L3++ ASIC Miners
P106 GPUs
RX 470/480 570/580 GPUs
Broken or Damaged GPUs or ASICs
If you're ready to sell your cryptocurrency mining hardware, fill out the form below. Our typical turnaround time is 2-3 business days. Of course, if you have any questions you can contact us ahead of time.